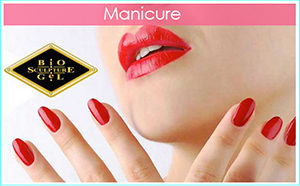 Perfectly groomed hands and feet look good and feel good.
Paraffin wax is a soothing warm treatment that softens and moisturises the skin. It also relaxes muscles, soothes the pain of arthritis, decreases inflammation of joints and improves circulation.
Manicure Prices:
• Nailcut, File, Buff, Cuticle, Scrub, Massage & Polsih – £22.00
• Nailcut, File, Buff, Cuticle & Polsih – £15.00
• French Manicure – £25.00
• Manicure with Paraffin Wax – £30.00
• Shape & Polish – £9.00
The busy housewife, career woman or holiday maker does not have to be concerned about their fingernails. With Bio Sculpture Gel your nails will always look well groomed.
The Advantages of Bio Sculpture Gel are:
• Healthier alternative to nail care
• A nail hardening treatment which does not chip
• Does not damage natural nails
• Easier to care for at home
• Easy removal (Soak off)
• No excess buffing before and after applying the Gel
• Thin, flexible and natural looking with a high gloss finish

• Gel Overlays – Hands – £30.00
• French Overlays – Hands – £35.00
• Gel removal – Hands – £12.00

Introduce a friend or a family member and after their first treatment you will get £5.00 discount off your next treatment.
No credit cards. Cash only please. Thank you.

Please give 24 hours notice before a cancellation